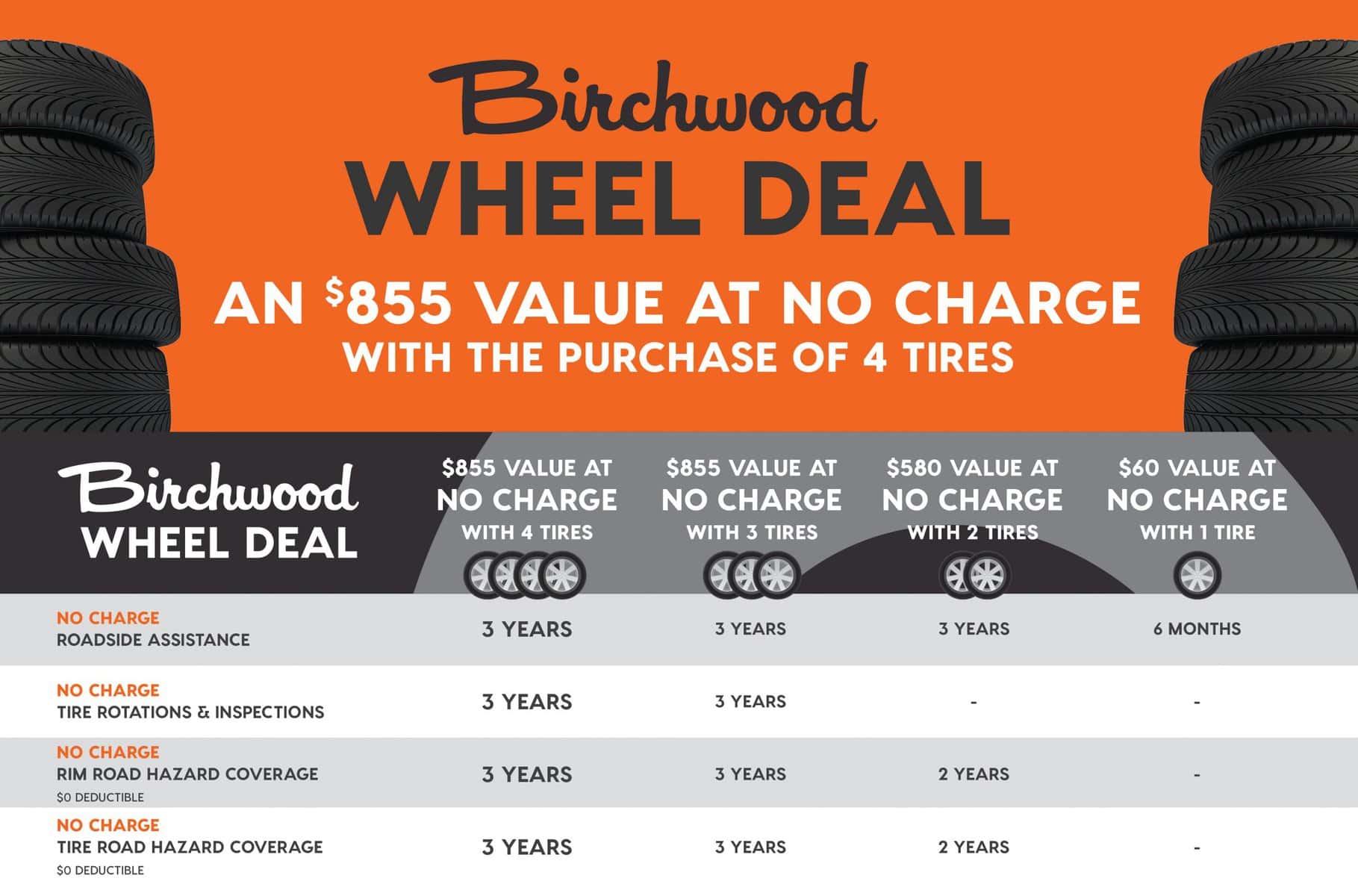 Did You Know?
50% of customers incur costs related to tire or rim damage within the first 3 years of ownership
Average replacement cost for a tire and rim on a car is $825
Average replacement cost for a tire and rim on a SUV/Truck is $1,150
That's why we've got you covered at the Birchwood Automotive Group with the Birchwood Wheel Deal.
Every Birchwood Tires purchase is eligible for our exclusive Birchwood Wheel Deal coverage at NO CHARGE for up to three years. That's up to an $855 value including:
Comprehensive roadside assistance
Tire rotations and inspections
Tire and rim road hazard coverage
Comprehensive Roadside Assistance
When out on the road, you'll know that you are protected by an organization that cares about the safety of you and your family. Our customer service representatives respond quickly to provide you the best service and protection available anywhere.
24-Hour Emergency Roadside
Assistance Benefits
24-Hour Towing Service
24-Hour Mechanical First Aid
24-Hour Tire Change Service
24-Hour Emergency Delivery
24-Hour Emergency Battery Service
24-Hour Lockout Service
Rental Car Discounts
Map Routing Service
Theft And Hit & Run Protection
Emergency towing
Rental car expenses
Roadside tire change
Accommodation expenses
Extra Benefits
Any Set of 2, 3, or 4 tires purchased and installed at any of our Authorized Dealerships are protected
$0 deductible
Covers aluminum rims, which are softer and more vulnerable than steel rims
No Charge Tire Rotations and Inspections
No Charge Annual Tire Rotations and Inspections, Based on contract duration.
Tire and Rim Road Hazard Coverage
Our tire and rim road hazard coverage protects you from flat tires, blowouts, damaged wheels, and unplanned expenses. Protection from tire & rim damage resulting from potholes and other road hazards is included, such as:
The Birchwood Wheel Deal guarantees the owner the cost to repair or replace, as determined by us, any covered tire or wheel that should fail due to a road hazard while under contract. A failure refers to a tire or wheel that is no longer able to retain air in the tire.
*Some conditions and exclusions may apply, Wheel Deal does not provide run-flat coverage, tires must be installed at a Birchwood dealership to qualify, see in store for details.